We have become a pill popping society.  There is a pill for just about anything you can think of; weight loss, pain, inflammation, hormones, the list goes on.  Many of these may be taken by our patients and should become a concern of ours.  If you don't understand medications, you better take the time to learn, because this is the current state of our healthcare and health system!   
The pharmaceutical industry is one of the largest and most powerful in the world.  The United States in particular accounts for 45% of the revenue in sales across the world (1), and we only account for 4-5% of the world's total population.  Think about that for a minute…and you think as an AT that this doesn't concern you?!  Think again!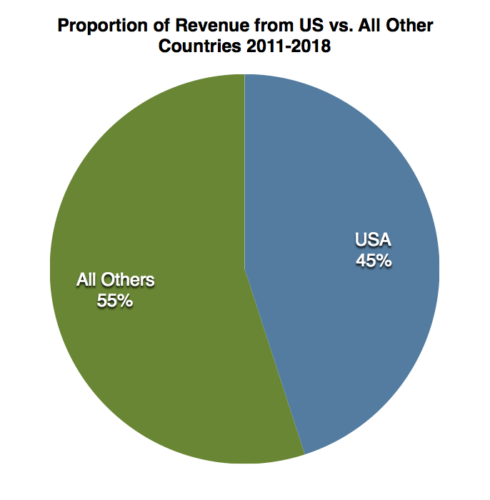 http://truecostofhealthcare.org/the_pharmaceutical_industry/ 
I was at the ATPPS conference in Boise, Idaho when my thoughts really started to get going on the idea of medication abuse, specifically of pain medications.  These thoughts were sparked by a presentation on the impact of opioid prescriptions leading to addiction (specifically for shoulder fracture patients, which is the population I mainly work with).  As athletic trainers, we likely come across this frequently no matter what our setting.  We see patients who have recently undergone surgery and were prescribed pain medications and we also see patients who are using other means to 'get a fix' for stress or pain management.  Once these patients start, can they stop?  If their prescription use is not being monitored or recorded and discussions are not being had about their self care behaviors, we won't know.   
Looking more into this idea, I then came across a recent blog post with the NATA student leadership committee on Opioids and Athletic Training (https://www.nata.org/blog/beth-sitzler/slc-opioids-and-athletic-training).  This provided great information about the opioid crisis in athletic training and how we can get more involved in making a change for the better.  We are in a prime spot to initiate collaboration among physicians and patients to have an open line of communication about prescription usage (2).  We have the skills to create an open environment for productive discussions that are non-judgmental and are seeded in a place of help for those who may be addicted or on their way to addiction.  We also have the skills to monitor behaviors and personalities with questioning and patient outcomes data collection, practice with drug testing measures, and knowledge of pain modulation techniques that do not involve the use of medications (2).  What we need to do is get better at maximizing our use of these skills! 
For example, just today in our clinic, we had a patient request a refill of Percocet two months status post his shoulder surgery!  This situation could have gone one of two ways; 1. We refilled the medication and fed into the opioid crisis, or 2. We determine a different course of action that facilitates a weaning off of the medications, positively impacting the patient and his long term health and hopefully preventing another individual from falling victim to the opioid crisis.  We chose option two.  This involved me as the athletic trainer providing the patient education about why we were providing him with an anti-inflammatory versus pain medication and what other modalities we could introduce to help with his pain control.   
Having this discussion empowered me to realize the impact athletic trainers truly have on this crisis, for our patients and society in general.  We need to step up and not shy away from involving ourselves in solving a problem that we believe to be larger than ourselves or not an impactful part of our practice.  Our education only partially lends itself to an understanding of medications, so we need to take the bull by the horns so to speak and educate ourselves to make the change.  Guarantee that if you open your eyes and simply observe your patient population, there will be signs of opioid abuse and addiction.  But what matters more is what you do with this new found knowledge.  How are you going to take a stand against the pill popping predicament? 
 
References: 
Belk D & Belk P.  The pharmaceutical industry.  True Cost of Healthcare. Date Accessed: 1 March 2019. 

http://truecostofhealthcare.org/the_pharmaceutical_industry/ 

Sitzler B.  From the SLC: Opioids and athletic training.  NATA Now. 28 February 2019.  Date Accessed: 1 March 2019.  

https://www.nata.org/blog/beth-sitzler/slc-opioids-and-athletic-training